In murky waters
In a crucial year culminating into the ODI World Cup, the chance entry into WTC final, a slew of injuries and faulty, opaque workload management of players by the BCCI do not augur well for the... India have qualified for the ICC World Test Championship final, starting at The Oval on June 7, thanks to their efforts in the first Test against Sri Lanka in Christchurch. The Black Caps were able to qualify after a turning track in Ahmedabad changed the course of the Border Gavaskar Trophy Series and helped India qualify for the final. The last Test in 2021 was put off due to an outbreak of the virus among the Indian players, but Virat Kohli's century against Australia in the fourth Test was monumental in patience and magnificent in execution. India's fitness, form and fluency match the British weather in the British summer, as well as the high-octane Indian Premier League. The NCA, National Cricket Academy, has made a mess to their human scientific scientific scientific research and Ravi Shastri's book launch party in London a mess. India has been handling its workload and management, while Bumrah has undergone surgery to do so.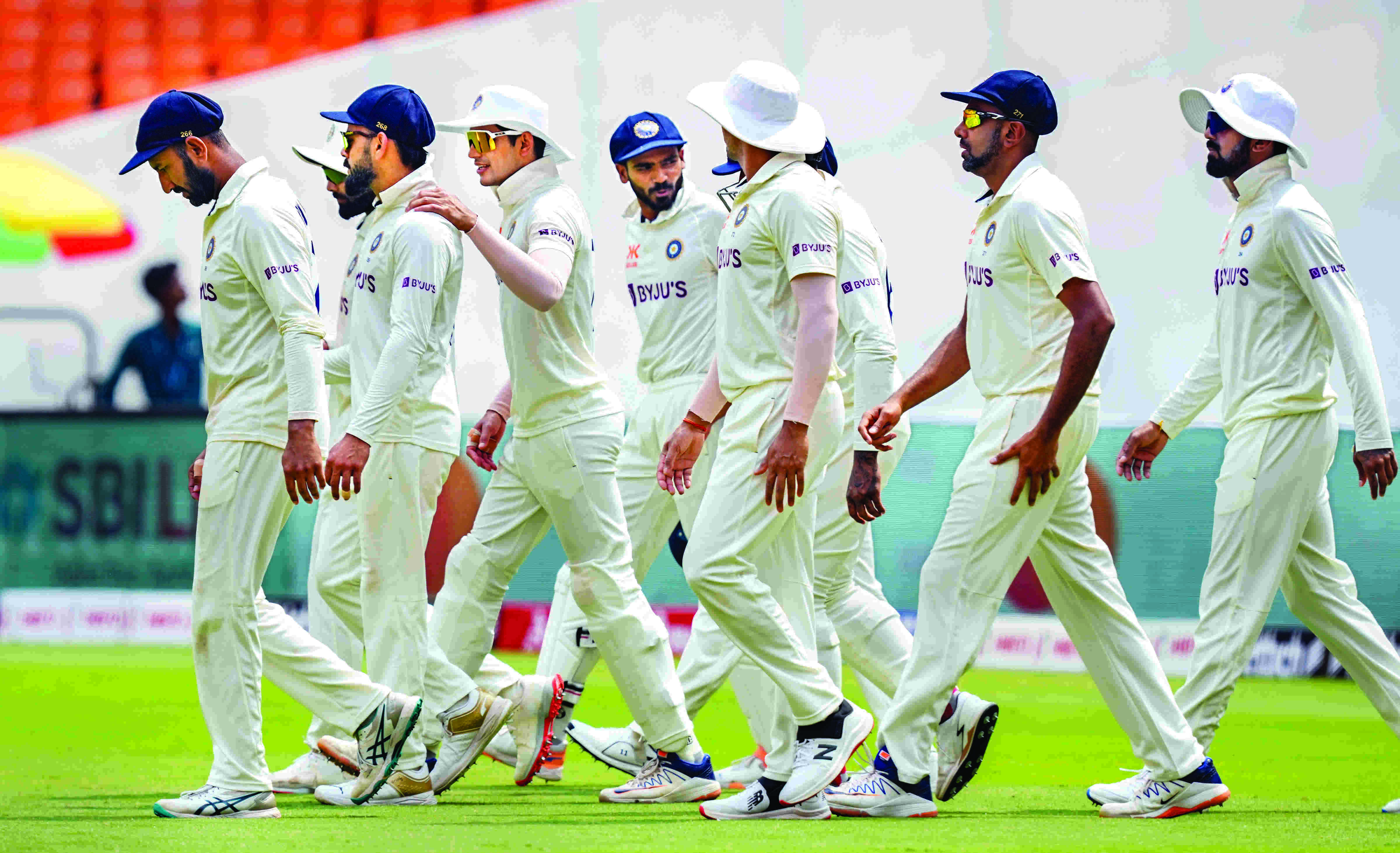 Published : 2 months ago by S Kannan in
All thanks to the Kiwis, notably Kane Williamson, for lending us the helping hand to make it to the prestigious ICC World Test Championship final, starting at The Oval on June 7. The way India floundered against Australia in the Indore Test, qualification for the finale in London became tricky. From a turning track to a veritable runway in Ahmedabad, where even five days were not enough to hint at an outcome in the fourth Test, India was more than happy to see their place being sealed, thanks to the Black Caps' efforts in the first Test against Sri Lanka in Christchurch. New Zealand was once again involved in a thriller against Sri Lanka, where a dramatic 'last ball' win in the first Test knocked the Lankans out of the WTC final race and helped India to qualify.
Qualification for the ICC Test Championship final involved a lot of arithmetic, though, after winning the first two Tests, it was 'assumed' India would easily make the cut. A turning track in Indore changed the course of the Border Gavaskar Trophy Series and was egg on the face for skipper Rohit Sharma. To say that he and coach Rahul Dravid are lucky that their team has made it to the final would be stating the obvious.
Fortunes have fluctuated like a pendulum in motion in these last two years in the Test cycle. In the 2021 ICC Test Championship final, played at a bad venue in Southampton, India lost on the sixth day (reserve day) to New Zealand after rain had wrecked play for a major period. At that time, too, Kane Williamson was the hero. He flew back to New Zealand with the trophy, minus the fanfare one would have usually seen in India.
That loss to the Kiwis was followed by a Test series against England in England, where India did well. Those Tests were played in the Bio Bubble due to the raging Covid pandemic. Still, the last Test in 2021 was put off due to an outbreak of the virus among the Indian players, for which Ravi Shastri's book launch party in London was blamed.
Times have changed. Shastri is now back in the TV commentary booth, his voice booming and full of cricket 'expertise'. Virat Kohli, the skipper at that time, has slipped into the role of being just a player, a key one, very quietly. His century against Australia in the fourth Test was monumental in patience and magnificent in execution. To hammer a Test century after over three years was effort, dedication, and the willingness to perform like just any other batter.
If Kohli had set the cricket world ablaze, then the maiden Test ton at home by Shubman Gill was brilliant. The debate over the Test opener's slot has been raging. For some strange reason, KL Rahul has been hyped by far too many people. That he was sacked midway through the series by the BCCI selectors was a glaring testament to Rahul's non-performance. He can still bounce back in the ongoing ODI series against Australia and the upcoming IPL.
However, the big challenge is what will be the Indian approach, for the ICC Test Championship final, where an extra day has again been kept. The vagaries of weather in British summer are well known. It could be sunshine one moment and then a drizzle. India's fitness, form and fluency match the British weather! Sample this, key players are injured and the struggle to name the squad for The Oval Test has to be delayed. Getting priorities right has always been questionable, and from March end, all eyeballs will be grabbed by the high-octane Indian Premier League.
White ball versus red ball or white ball plus red ball cricket, getting the formula right has been a conundrum for India. The think-tank in the BCCI cares about money, more money and how its balance sheet can bulge like an overfed belly. For all its hype, the NCA — National Cricket Academy — in the Bengaluru scientific division has made a mess. Rishabh Pant's car accident in December was beyond human control, though he is back on the road to recovery. Pace ace Jasprit Bumrah's back injury last year, sustained during the postponed Test against England last July in Birmingham, was a case of neglect.
The BCCI and whichever doctors were treating him had no clue what to do. Bumrah has undergone back surgery in New Zealand and the rest and rehab process is going to be long. Add to it the flare-up of Shreyas Iyer's back injury, it does seem Team India has been handling workload management, fitness, and recovery in an amateurish way. Shreyas is also going to be out for a brief while, though the BCCI will never tell fans how long the break is going to be. Providing medical updates is not on the BCCI's agenda.
One is talking about all this as 2023 is very big for Indian cricket. Making it to the ICC Test finals has not generated as much enthusiasm as the forthcoming IPL to be followed by the ICC World Cup in October/November. IPL will make fans and the BCCI forget everything else. Given the taxing nature of the IPL, now with plenty of travel involved, players will undergo more wear and tear.
Those who work on their fitness with 100 per cent dedication like Virat Kohli will survive all formats of cricket. However, there are many players, relatively younger, who will collapse. Then comes 'workload management'. During the Test series, India saw how Ravindra Jadeja, now a genuine all-rounder, made a fantastic comeback after his knee surgery. He had rested and undergone proper rehabilitation. Another magician, off-spinner R Ashwin, has kept himself fit at 36. If these two guys, Jadeja and Ashwin are able to go through the grind in red-ball cricket, it is testimony to their own work ethics.
Sadly, many younger players are collapsing. The BCCI knows how even youngsters have major fitness issues. For fast bowlers, workload management is a must. Going to England means having fit-as-fiddle fast bowlers is essential. Mohd Shami, Umesh Yadav, Mohd Siraj and Shardul Thakur are the names now being spoken of. Bumrah could have been a key weapon, though the above-mentioned bowlers have developed more than adequate skills.
It was embarrassing to see the Indian batters struggle against spin from the Aussies in the first three Tests. The failures of the top order were camouflaged by Jadeja, Ashwin, Axar Patel and even KS Bharat to a large extent. After all, slipping into the Test wicket-keeper's role as a replacement for Rishabh Pant was not easy for Bharat. Pant is a positive influence with his chatter behind stumps and the ability to hammer any attack even in Tests. He has begun rehab and returning to full fitness will take time. The good thing is, he is young and will be ready in time. There is no way one can predict when Pant and Bumrah will be fully fit.
One man who should have been groomed during the Border Gavaskar Trophy series is Surya Kumar Yadav. There are far too many debates and discourses on players who are white ball exponents and good in red ball cricket. All this is a bit too theoretical. In the good old days, when swing bowler and all-rounder Ian Botham was asked how he moves the ball, he laughed. For Beefy, as Botham was known, swing bowling was more an art than science.
For the sheer volume of cricket played by Indians, that is international stuff, white ball is the flavour. Now and then we will hear from mavericks like Gautam Gambhir that a few Test regulars in Team India should play Ranji Trophy. Sounds great. But if you see the stats, how little domestic cricket the current Indian 'superstars' have played will shock you.
A middle-order solid batter like Cheteshwar Pujara knows his limitations. He will graft and innings, grind the bowling attack and stay at the crease for hours. If you ask him to bat like Gill, that's nonsense. Team India needs a mix of players who are natural stroke-makers as well as traditional grafters. There is no way you can keep out Surya Kumar Yadav forever from Tests. He is in rich form and very important for white ball cricket, no doubt about that. Plus point, Pujara will again prepare for the vital Test by playing County Cricket in the summer.
Given the way Indian players collapse now and then, fitness is a key factor. How much load can each player take is the bigger question. Planning is of the essence, though assigning the T20 leadership role to Hardik Pandya is a step in the right direction. The sad state of affairs in Indian cricket can be seen from one aspect, no vice-captain was named after KL Rahul was dumped.
In comparison, when Pat Cummins had to fly back to Australia, Steve Smith again took charge. This smooth changeover worked for the Aussies. Rohit Sharma is not growing younger, so the BCCI not only needs to find the next Test captain but also needs to groom whoever it turns out to be for a smoother transition as well. Is anyone hearing?